Skip Navigation
Student Spotlight: Alex Herrera
Alex Herrera is a Mechanical Engineering student in her senior year at Stony Brook University. She is the president of AIAA, a part of two research labs, and currently interning with NASA.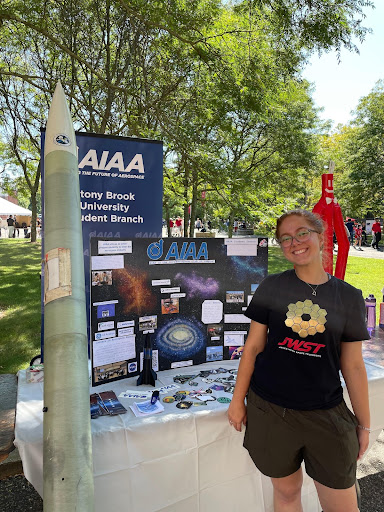 What made you choose Stony Brook University and a Mechanical Engineering major?
I chose Stony Brook because I had heard about the WISE program and how it supported women in STEM fields at Stony. Between that and the unique resources we have here, I knew this was the right place for me. I chose mechanical engineering because I wasn't fully sure whether or not I wanted to go into space or environmental fields, so I chose a field that could do both. Over time, I realized I wanted to go into aerospace since I have been fascinated with space ever since I was a kid.
How did you learn about AIAA? What made you join and ultimately run for president?
I learned about AIAA at the CEAS involvement fair in 2021. I heard that the secretary at the time who was also in WISE had participated in a NASA program and I wanted to ask her about her experience. She encouraged me to attend the GBM's and I saw so much potential for what the club could become.
The entire executive board at the time was graduating, and I felt 
motivated to expand the club and see what we were capable of.
This curiosity drove me to run
for president. I met amazing people in the process, networked with industry professionals, and
started some traditions. After such an unforgettable year as president, I decided to run again in my senior year to help continue the club's journey. I am a huge advocate for getting involved around campus. We have some outstanding clubs and organizations that can boost your resume and teach engineering and life skills.
Can you tell us about the current research labs you are a part of?
I'm a part of various research labs around campus. I am currently working on 3D printing

magnetic actuators with Dr.  Shanshan Yao where I focus on making the 3D printing process as efficient as possible. This includes the composition of the ink we print as well as the procedures we use. I have also been doing research under Dr. Fu-Pen Chiang. Last year I focused predominantly on measuring plate bending using projected speckle patterns. Now, Professor Chiang and Austin Giordano are helping me continue my research with NASA.
How did you land an internship with NASA and what have you been working on?
I worked extremely hard my sophomore and junior years to build my resume and network as much as possible. Being the president of AIAA helped me gain the skills necessary to work an internship like this, and all the events and projects we put on improved my technical skills as well as my soft skills. Ultimately though, I got lucky. Thousands of students across the country apply for these opportunities and my mentor, who has been my role model for the past few months, just so happened to take the chance and believe in me. Over the summer I worked at NASA Ames Research Center in Silicon Valley, California. I've never traveled to the west coast, so moving out there for over 2 months was an unforgettable experience. I worked and still work with the Life Support group where I am working on a viral sensor that uses Raman Spectroscopy to detect viruses on spacecraft. I will also be joining the VIPER team, which is the Artemis lunar rover.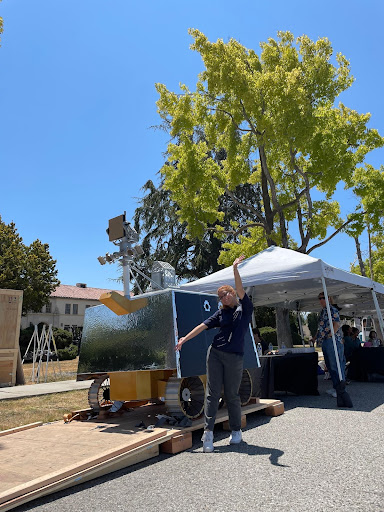 What advice would you give to students?
There are so many things I would love to say to students. The most important few are to not be afraid to do something "impossible," pursue something you love, and to take what works for you and leave what doesn't. I would advise students to take risks, because the worst someone can say is no. I would message people on LinkedIn every day to essentially ask for advice, and I ended up building connections that got my resume on some hiring managers' desks. Even if you don't think you'll land the internship or program, apply anyway! You only need one "yes" to change your life. I'm a firm believer that everyone should pursue something they love to do. 
What are your plans for after graduation?
As of now, my plans for after graduation are to return to NASA Ames in California with the Life Support team. I hope to stay connected with my AIAA family long after graduation!