Skip Navigation
Imin Kao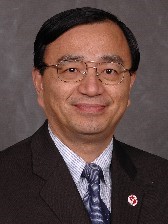 Professor,
Executive Director of SUNY Korea
Address
167 Light Engineering
Department of Mechanical Engineering
Stony Brook University
Stony Brook, NY 11794-2300

Contact Info
Phone: (631) 632-8308
Fax: (631) 632-8544
Email:  imin.kao@stonybrook.edu
---
Education
Stanford University, Ph.D. 1991
Stanford University, M.S. 1986
National Chung Hsing University, Taiwan, B.S. 1981
Professional Experience
Department of Mechanical Engineering, Stony Brook University, 94 - present
San Jose State University, California
Research Interests and History
Being the Director of the Manufacturing Automation Laboratory (MAL), Imin Kao conducts research in the areas of robotics and manufacturing automation, dextrous manipulation with soft fingers, wafer manufacturing, wiresaw, MEMS and intelligent fault detection and diagnosis (FDD). He was the first to conduct research in modeling and control of wiresaw manufacturing process. His work has contributed in establishing and developing fundamental understanding of wiresaw slicing technology which has become as the major technology to replace ID saw in wafer slicing, especially for large-diameter silicon crystal ingot. His research has been funded by NSF, DoE, SME, GT Equipment Technologies, BCAM International, and numerous other industry. Kao was an Associate Editor of the IEEE Transaction on Robotics and Automation, and the International Journal of Advanced Manufacturing Systems. He is a member of the ASME, IEEE, and ASEE. He has authored in excess of 110 refereed papers, several book chapters, and a chapter in the Springer Robotics Handbook.  He is the Founding Faculty Director of the Information and Technology Studies (ITS) Undergraduate College at the Stony Brook University.  He is a recipient of the SUNY Chancellor's Award of Excellence in Teaching and the Student Life Award at the Stony Brook University.  He is a member of Tau Beta Pi, the National Honor Society of Engineering.