Skip Navigation
News and Announcements
Machine Learning Driven Robot Motion Design - IFToMM Conference in Tokyo 2023
Professor Anurag Purwar, Director of Computer Aided Design and Innovation Lab, presented a workshop titled "Machine Learning Driven Robot Motion Design" at the 16th IFToMM World Congress in Tokyo, Japan. The workshop was attended by 126 researchers from around the world. In this workshop, he introduced attendees to a new NSF-funded computational framework which brings together machine learning with rigid body kinematics for simultaneous type and dimensional synthesis of mechanisms. Attendees were also exposed to a new web-based mechanism design software called MotionGen (http://www.motiongen.io), which implements research methods developed in the aforementioned framework. 
New Patent Issued 2023: System and Method of Characterizing the Equibiaxial Compressive Strength of 2D Woven Composites
Associate Professor Kedar Kirane and co-inventors, former MS students Daniel Deland and Zongyan Zhang were recently issued a patent. "This technology proposes a novel but simple idea that allows simple and reliable measurement of the equibiaxial compressive strength of 2D woven composites, by application of a uniaxial out of plan
e load, with a very simple specimen geometry and test set up. The testing method for this purpose is the ring on ring flexure test. In this test, the biaxial strength can be measured
by subjecting un-notched disks or plates to a monotonic, out of plane load at the center. This produces biaxial flexure of the specimen and effectively converts a uniaxial load into a biaxial state of stress. This test set up is inexpensive and the specimen geometry is sim
ple. It also d
oes not require any expensive specimen grips."
Society of Hispanic Professional Engineers (SHPE) forges a path for tomorrow's innovators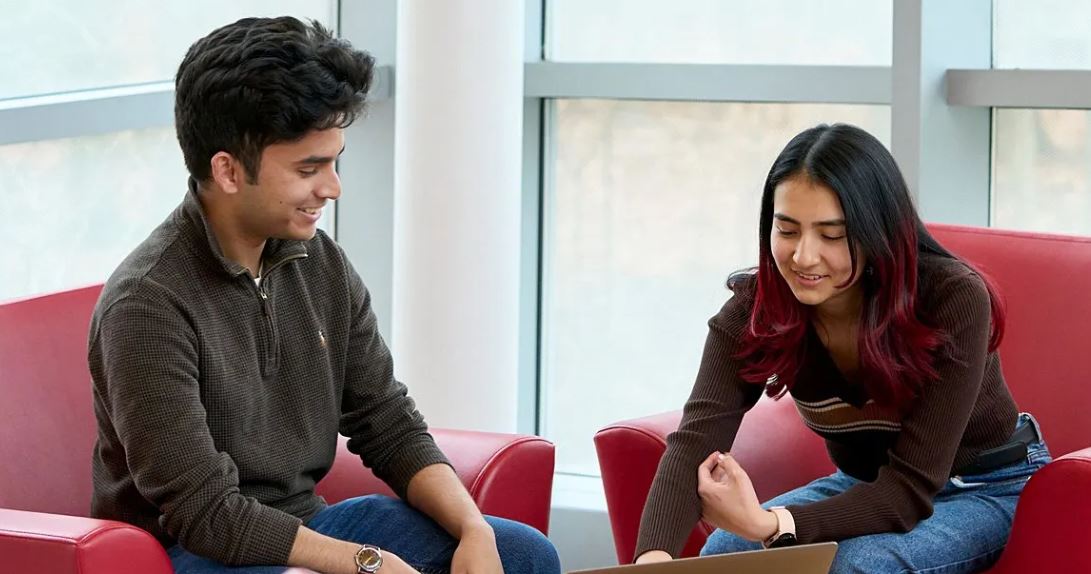 Featured in the recent edition of the Stony Brook University Magazine, Mechanical Engineering undergraduate, Saadat Islam, and Instructional Support Technician, Austin Giordano, discuss their experiences and success with the Society of Hispanic Professional Engineers (SHPE).Read more HERE.
Graduate Research Symposium Award Winners 2023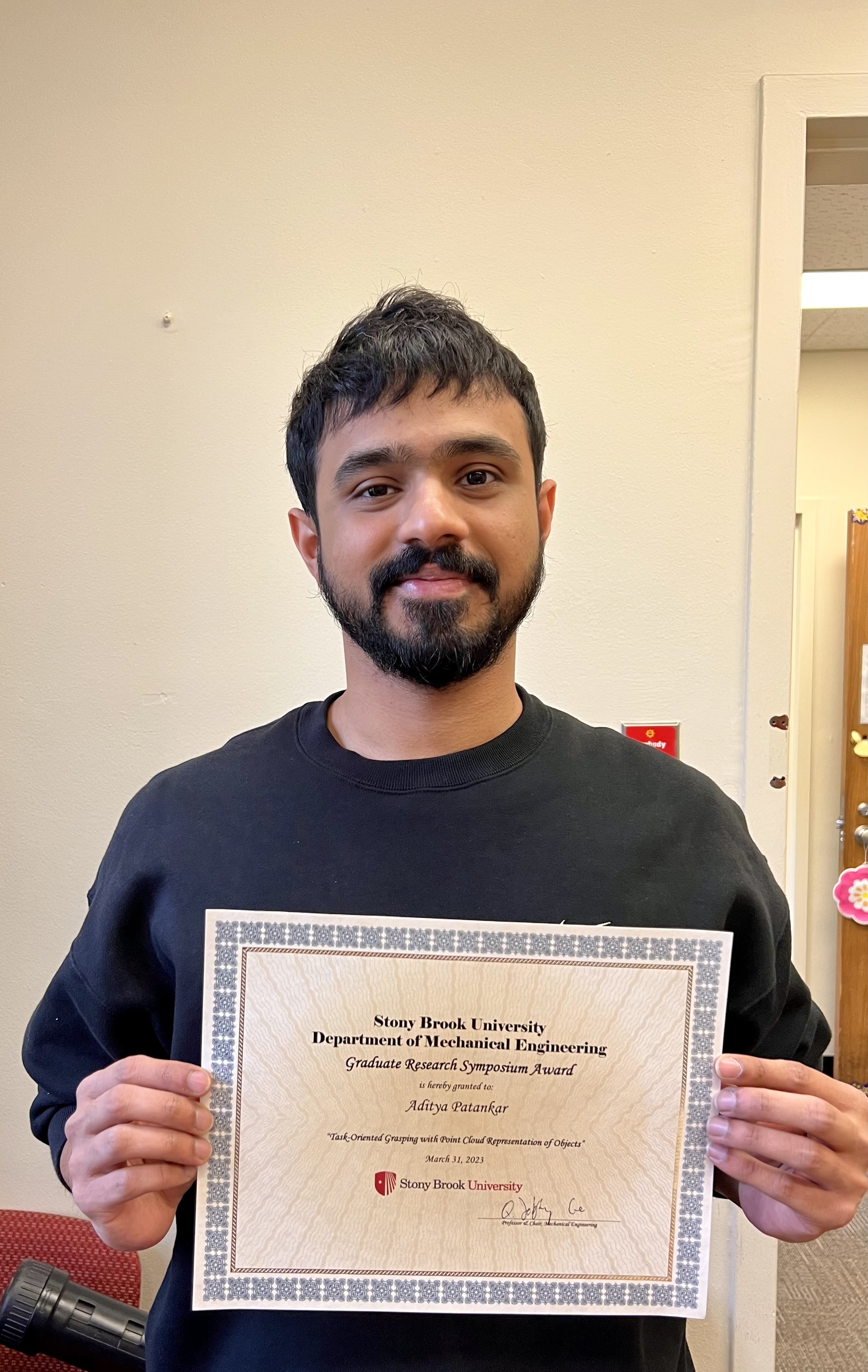 Thirty Mechanical Engineering graduate students presented their research during a one-hour poster session as part of the annual Industrial Advisory Board (IAB) meeting hosted on March 31st, 2023. Faculty, staff, and industry representatives had the opportunity to speak with the student researchers regarding their work. The Board members, in consultation with the Symposium committee, selected two winners who each received a $100 Wolfie Wallet card and an award certificate.
Aditya Patankar and Xiaoqiang Xu, both PhD students, won the research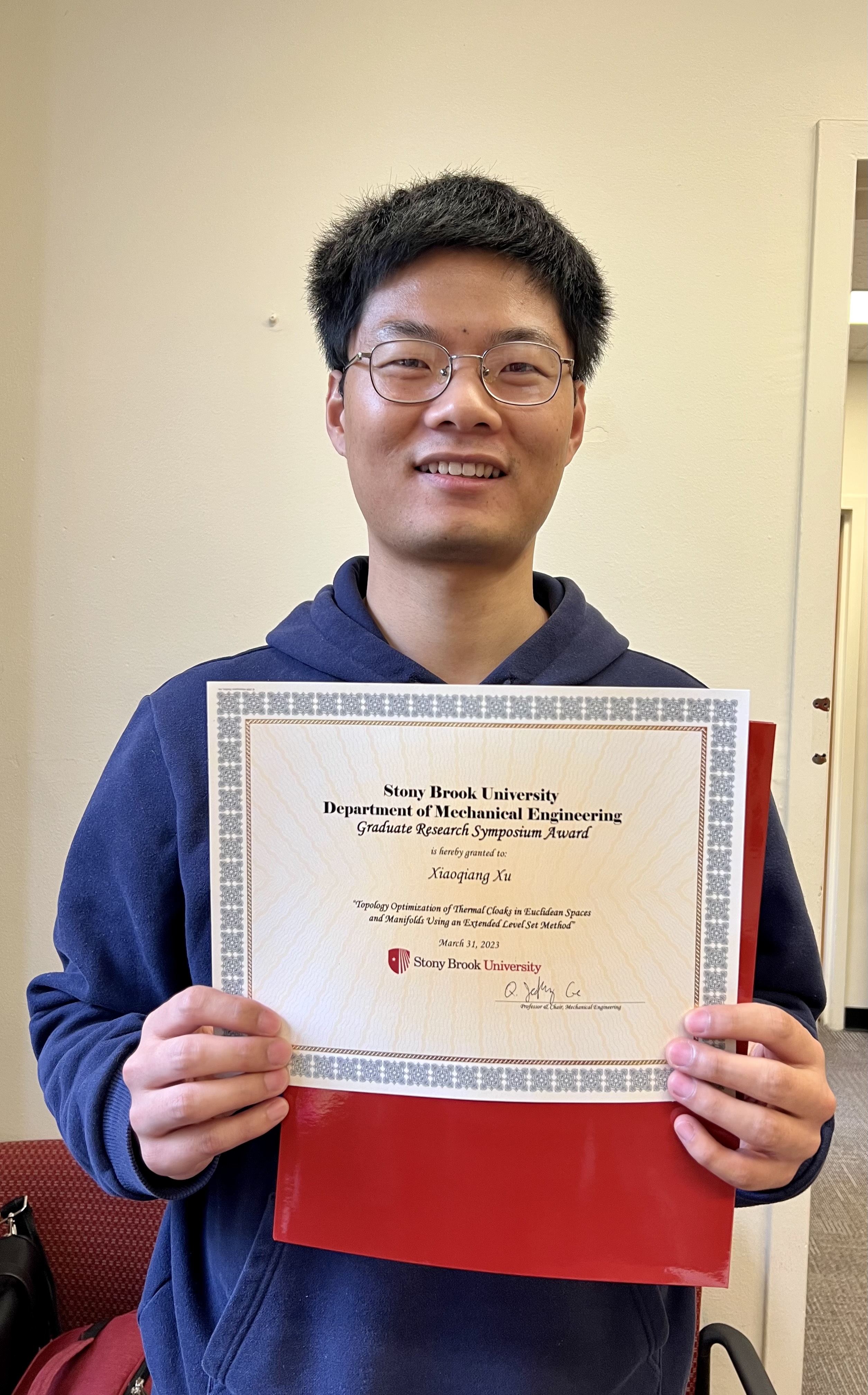 competition for the innovative efforts on their projects, "Task-Oriented Grasping with Point Cloud Representation of Objects," and "Topology optimization of thermal cloaks in euclidean spaces and manifolds using an extended level set method," respectively. 
Honorable mention awards were also given to PhD students, Jamshid Ochilov, "Impact Damage Modeling of Composite Laminates" and Yiting Zheng, "Time-resolved Diagnosis Of Laser Induced Bi-layer Molybdenum Scribing For Photovoltaic Solar Module Fabrication," as well as MS student Michael Persch, "Development of Test Procedure to Evaluate Head Coking."
Congratulations to all who participated!
GE Renewable Energy Offshore Wind Project
"GE Renewable Energy Offshore Wind Project" has been awarded a grant which facilitates the collaboration between SUNY Stony Brook and GE Research. Stony Brook researchers include PI: Shikui Chen and Co-PI Jon Longtin from the Department of Mechanical Engineering, and Fang Luo from the Department of Electrical and Computer Engineering. The project explores the potential of topology optimization technology in reducing the usage of rare-earth magnets in offshore wind turbines.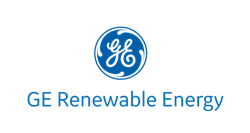 Industrial Advisory Board Meeting 2023

For the first time since before the start of the pandemic, the Mechanical Engineering Industrial Advisory Board (IAB) returned to an in-person format.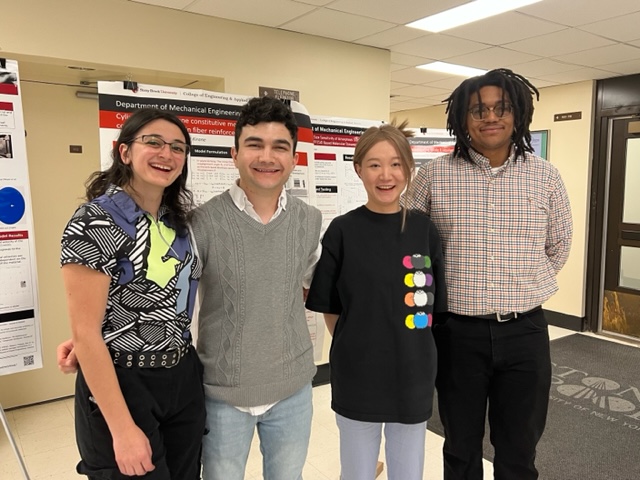 The day consisted of lively discussion on achieving departmental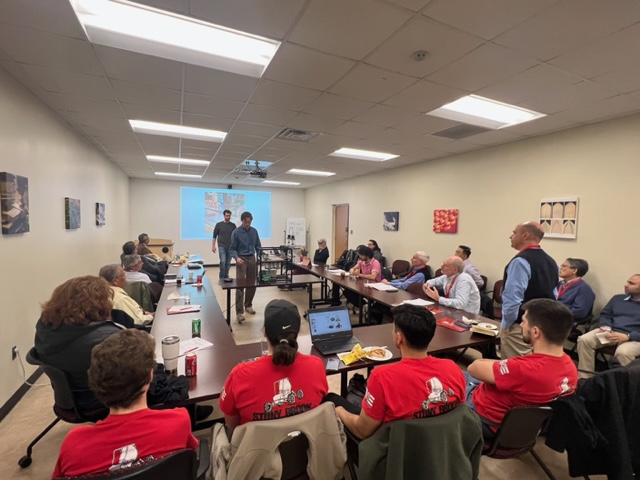 aspirations and objectives, as well as brainstorming innovative growth opportunities. During the afternoon session, undergraduate student organizations such as the National Student Data Corps, a Senior Design Group, Stony Brook Motorsports, and the Solar Boat Team gave presentations. In addition, Nick Amador of the Career Center led a student-employer discussion, Assistant Professor William Stewart gave a talk on "Interactive Aerial Robotics," and a Graduate Student poster symposium took place.
ASME Inaugurates Prof. Assanis into Distinguished Associates of the Internal Combustion Engine Division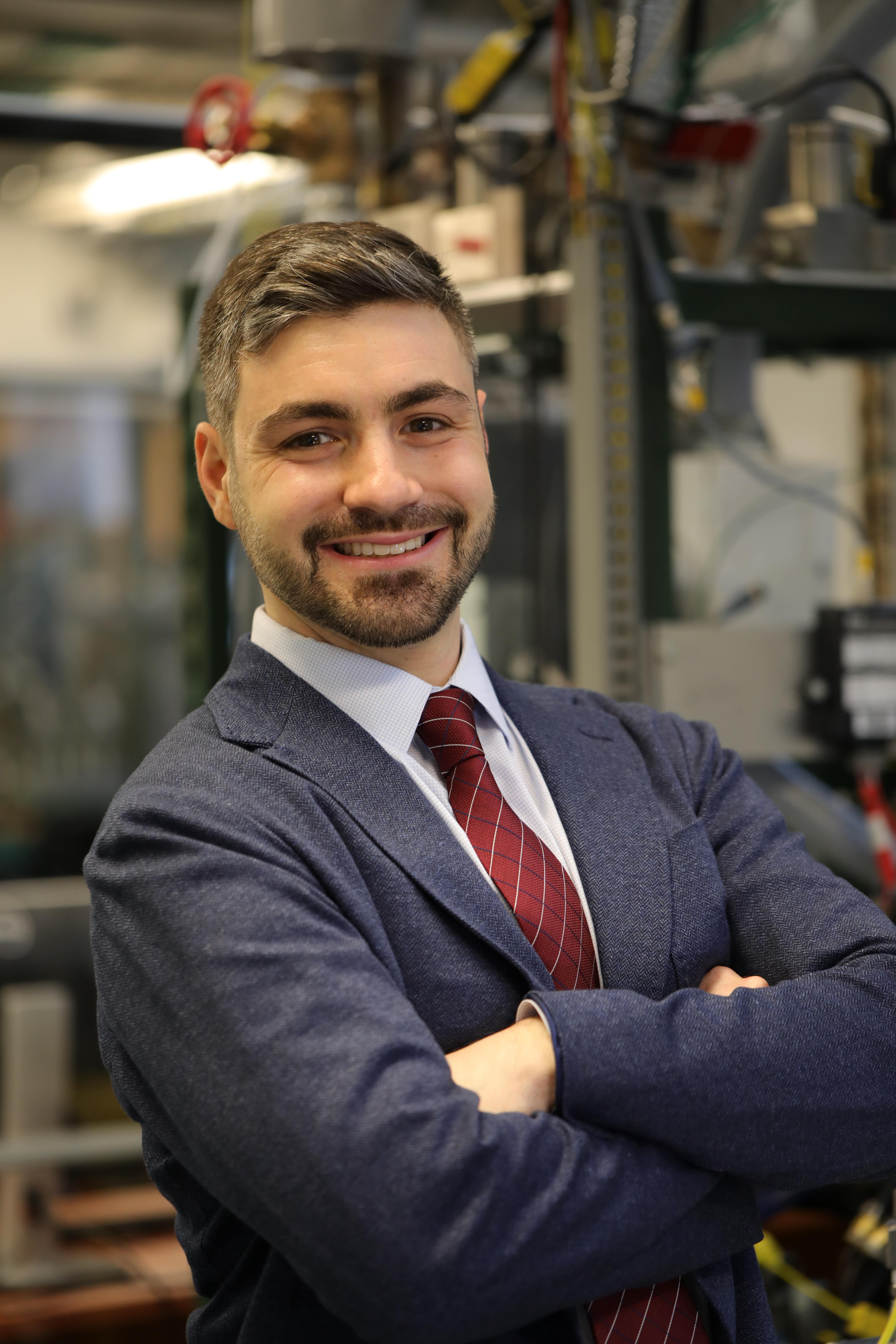 Professor Dimitris Assanis has been elected by the Internal Combustion Engine Division (ICED) Executive Committee to become a member of the Division's Distinguished Associates. The Distinguished Associates of the ICED take active roles in disseminating and expanding state-of-the-art technology to ASME members, those in engineering professions, and the industry as a whole. 
Distinguished Associates are expected to participate in the formulation of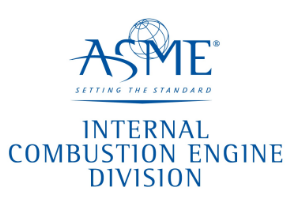 ICED's programs by joining one of their technical and/or administrative committees. Prof. Assanis has joined the fuels and carbon management track as a session co-organizer. He and members of his research group will be attending and presenting six papers at the next ASME Internal Combustion Engine Forward (ICEF) conference this October in Pittsburgh, PA.
Green Hydrogen Production from Offshore Wind Research Awarded $84K from Sunrise Wind LLC and CIEES
Professor Dimitris Assanis has received an $59,000 award from Sunrise Wind LLC for the project titled "Understanding economic viability of green H2 production in a wind farm with wake field interactions."  A previously-developed wind turbine TEA framework will be extended to evaluate the levelized cost of electricity from a wind farm, inclusive of wake field interactions, in order to determine when green H2 production is economically viable.  An additional grant of $25,000 from the Center of Integrated Electric Energy Systems (CIEES) to match will be used to evaluate the techno-economic impact of the proposed technology, integrated H2 production, on the Long Island, New York City downstate region.
Through a collaborative partnership with Trojanowski, Butcher, Yogarathnam, and Yue at Brookhaven National Laboratory (BNL), the information gained from this proposition will be leveraged on a larger magnitude to complement Trojanowski's $1.35M Lab Directed Research and Development (LDRD) project titled "Hydrogen Research: Design, Engineer, Materialize, and Operationalize (H2 Research DEMO)," that aims to utilize renewable solar power to generate green H2.
Assanis enthusiastically states he is, "excited for this unique opportunity to work with leadership and members of the Advanced Energy Center, CIEES, and Brookhaven National Laboratory to better understand decarbonization pathways."
Prof. Shanshan Yao Wins NSF Career Award
Professor Shanshan Yao of the Mechanical Engineering department has been awarded $500k from the National Science Foundation (NSF) and the Division of Electrical, Communications and Cyber Systems (ECCS) for her proposal "CAREER: Closing the Loop of Human-Machine Interactions via Skin-Like Multimodal Haptic Interfaces" to conduct research aimed to develop haptic interfaces that can produce cues that skin would be capable of sensing. This exploration of the design of haptic interfaces will aid in discovering what feedback sensations are most efficiently experienced through the skin.
The information gleaned from this project will create a foundation for closed-loop human-machine interfaces and interactive user-and-machine applications. In addition, this project possesses the potential to enhance robotics, prosthetics, teleoperation, smart manufacturing, entertainment, medical/military training, and virtual reality (VR)/augmented reality (AR) machinery. When enough research has been conducted about this subject, students will be able to enter more diverse fields of haptic devices and nanotechnology. 
Read here for more information.
SnappyXO Showcasing at CES 2023
The National Science Foundation (NSF) and the United States Patent and Trademark Office (USPTO) invited Mechanismic Inc, a Stony Brook University startup, to showcase SnappyXO Design at the CES 2023 in Las Vegas, NV. Mechanismic Inc. was part of the U.S. Government Startup showcase as one of only ten companies and the only NSF-funded company invited to present their work. The CES, owned and produced by the Consumer Technology Association, is the largest tech event of the world, which drew close to 115,000 attendees this year and has a rigorous process for accepting the latest technologies being unveiled at the show.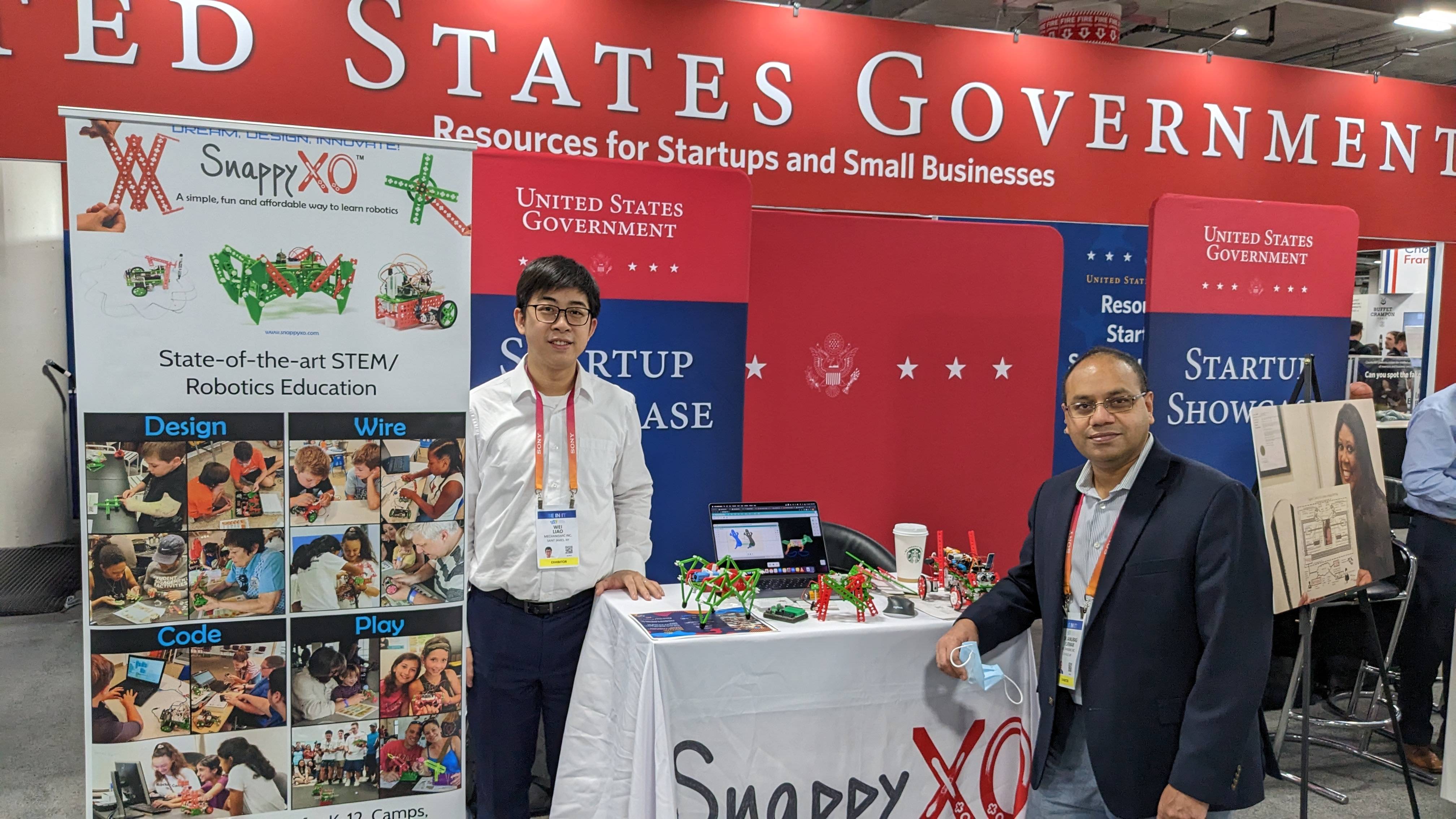 The SnappyXO Design (www.snappyxo.com) is a STEM Robotics education product for K-12, colleges and universities, and makers and hobbyists being developed by Mechanismic Inc. in collaboration with Stony Brook University through a $1M NSF STTR Phase 2 award. Mechanismic Inc. was represented by Dr. Anurag Purwar of Mechanical Engineering (Co-PI) and Wei Liao, who leads Systems Division at Mechanismic. Mr. Liao is a Mechanical Engineering graduate (B.S. and M.S.) from SBU who has developed the latest version of the groundbreaking MotionGen Pro software. MotionGen Pro is the world's first AI-driven robot motion design software, which is being used by students, researchers, and industry professionals and derives lineage from an earlier NSF funded research grant titled "A Computational Framework for Data-Driven Mechanism Design Innovation" to Dr. Anurag Purwar (PI) and Dr. Jeff Ge (Co-PI). Prior to receiving NSF STTR phase I and II funding, Dr. Purwar's team received a national NSF I-Corps award of $50,000 to determine the product-market fit for SnappyXO Design.
Department of Mechanical Engineering
113 Light Engineering, Stony Brook, NY 11794
Phone: (631) 632-8300
Fax: (631) 632-8544