Skip Navigation
Competition News
---
News
Senior Design Team Competes in ASME Robot Football
William Henle, Steven Mazzola, and Gurnihal Singh participated in the 2018 ASME Robot Football Competition at the ASME E-Fest East. The robot was built as their Senior Design project, while being advised by Prof. Jeffrey Ge. The team placed 7th out of 54 teams in the preliminary rounds.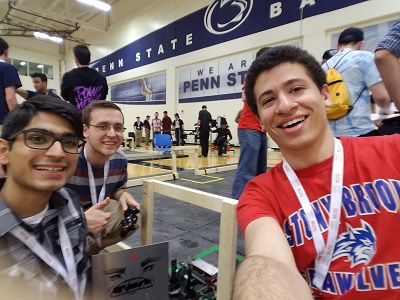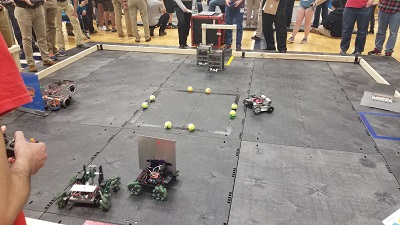 ---
Solar Racing Team Makes a Splash at 2014 Annual Competition
Stony Brook's Solar Racing Team (formerly known as the Solar Boat Team) sped past nine other competitors at this year's Solar Splash Competition in June to grab the title of world collegiate champion. Last year the team placed fifth, up from 15th place two years ago. "This was a major achievement for us, as it helped us place first or second in every event at the competition: qualifying (second), solar slalom (first), solar endurance (second), sprint (second) and overall (first)," said Ankit Tyagi '14, who was a mechanical engineering major at Stony Brook now pursuing a doctorate at Penn State. Tyagi, who was president of the club in 2013, still lends his expertise, as do many Stony Brook alumni.Seven students were part of this year's Solar Racing Team: Dominick Fratto '16 (electrical engineering); Philip Mauser '16 (electrical engineering); Dominic Silva, '14 (engineering science); Anthony Tricarichi (PhD student), Han John Tse '15 (mechanical engineering); Tyagi; and Mohammed Uddin '14 (mechanical engineering). Fratto and Silva served as the boat's skippers.
Back to Top
---
1st place at the 2010 ASME Student Mechanisms and Robots Design Competition
August 20, 2010
The student project titled "Design of a device for raising, lowering, and transporting a disabled individual with limited lower body strength" by Thomas Galeotafiore, Justin Miles, Jeffrey Renert, and supervised by Professor Anurag Purwar has won 1st Prize at the 2010 ASME Mechanism Design Competition for undergraduate students held in Montreal, Canada during 2010 ASME International Design Engineering Technical Conferences. The award and the travel grant for these three students has been sponsored by NSF.
The student team working with Prof. Purwar designed a device to assist people with limited lower body strength in going from a seated to a standing position and vice-versa and subsequently function as a stabilizing device for walking. This device can be used by a wide range of people, including those with lower-body debilitating ailments and multiple sclerosis, and children and seniors with weakness in legs. Many of these people are able to walk with the assistance of a standard medical walker once in a standing position, but the process of getting into the standing position can be an arduous task requiring assistance from others. Existing products for lifting a person into a standing position are generally non-portable, heavy, cannot fit through standard doorways, require assistance from other people, and/or cannot be used as a standard walker. To address these problems, they designed and prototyped an assistive device combining the lift and walking functions. Designed in a compact way, it mainly consists of two parallel-motion six-bar linkages driven by two synchronized linear actuators and supported by a wheeled frame, which lifts the user from the seated to the standing position, and then allows the user to use it as a walker. Tests with prospective clients up to 250 lbs showed that the prototype provided stable and comfortable lift-up support. This project was supported by an  NSF grant (# CBET0853672) awarded to Prof. Yu Zhou (the senior design instructor) and Prof. Jeffrey Ge.
Back to Top
---
Mechanical Engineering students win first and second place in College of Engineering Senior Design Competition at URECA 2009:
Design of energy harvester for vehicle suspension. Brian Scully, Jurgen Shestani, Faculty advisors: Yu Zhou, Lei Zuo, Department of Mechanical Engineering - 1st place

JES riser, removable stand-up walker. Eddie YiZhan Zheng, Sriya Adhya, and Jincheng Wu. Faculty advisors: Yu Zhou, Anurag Purwar, and Jeffrey Ge. Department of Mechanical Engineering - 2nd place
Back to Top
---
2007 SSMP Innovations Award
Karol Stephaniuk, Hugo Gallegos and Dan Totong won the 2007 SSMP Innovations Award for their senior design project "Automatic Retractable Wheelchair Canopy". They developed a switch activated rain protector for wheelchair bound handicap people under the guidance of Prof. Fu-pen Chiang, the faculty advisor, and Prof. Yu Zhou, the instructor. This award was created by an intellectual property law firm – Scully, Scott, Murphy & Presser PC to prepare, file and prosecute patent applications for our best senior design projects on assistive devices. Moreover, this project has been selected as one of the four finalists in the ASME Student Mechanism Design Competition which is part of the 2007 ASME International Design Engineering Technical Conference, the largest Design Engineering conference in the world. The project has been supported by a donation from Rockwell International Trust. 
Accessible Medication Dispensing Device
 The mechanical engineering senior design project "Accessible Medication Dispensing Device" was selected as one of only five US teams to compete as finalists in the Second International Student Capstone Design Fair in November 2006. This project is a timed automatic medication dispenser designed for residential use to help a patient manage multiple prescription medicines, developed by a team of three mechanical engineering undergraduate students, Ayman Sawas, Warren Halbig and Mohammad Yusuf, under the guidance of Prof. Raman Singh, the faculty advisor, and Prof. Jeff Ge, the instructor of the capstone senior design course. Prof. Jeff Ge and Ayman Sawasrepresented Stony Brook University at the Design Fair with all expenses paid by the government of South Korea. Held at the EXCO Convention Center in Taegue, South Korea, this event was jointly hosted by the Ministry of Industry, Commerce and Energy of Korea, Korea Technology and Engineering Foundation and Capstone Design Education Center of Seoul National University of Technology. The design project was part of the senior design program for developing assistive devices to aid people with disabilities. The program was established by Professors Jeff Ge and Fu-pen Chiang, and has been supported by a grant from the National Science Foundation as well as generous donations from Rockwell International Trust.
Back to Top
---
2nd Place 2006 IEEEXtreme Programming Challenge
Dake Feng, a mechanical engineering graduate student, joined an inter-departmental team of the College of Engineering and Applied Sciences and competed in the 2006 IEEEXtreme Programming Challenge organized by IEEE. The team ranked No.2 among 47 international college student teams. 
Back to Top