Skip Navigation
URECA
URECA RESEARCHER OF THE MONTH
---
URECA RESEARCHER OF THE MONTH - DECEMBER 2018 - ANDREW NWUBA, Mechanical Engineering, Class of '19
Andrew Nwuba is a senior majoring in Mechanical Engineering who is a member of ASME, CSTEP and LSAMP. Having benefitted from a variety of undergraduate research experiences, Andrew succinctly states: "Research requires you to be independent which is helpful in essentially everything that you do."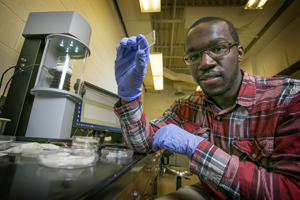 Andrew began doing research in his sophomore year, and joined two different research groups in the Department of Mechanical Engineering: one specializing in fluid mechanics, one focused on solid mechanics. In Professor Carlos Colosqui's research group, Andrew currently investigates the behavior of fluids, quantifies data-powder wettability, contact angles and surface tension in MATLAB, and seeks to develop new technologies related to hydrophobic materials. In the research group of Professor Fu-pen Chiang (where Andrew worked for ~ 3 semesters until April 2018), Andrew used laser speckle interferometry to measure the strain and roughness of objects. This research involved using MATLAB scripts to generate random speckle patterns. Andrew also works under the direction of Professor Fu-Pen Chiang for his senior design project: "Digital Speckle System for Mapping Surface Flatness, Warpage, and Vibrational Modes."
This past summer, Andrew had the opportunity to participate in CalTech's WAVE Fellows program in Pasadena, California: there, he conducted research in Prof. Beverley McKeon's laboratory on Real-Time Particle Image Velocimetry (RTPIV), investigating flow questions related to aerospace vehicle design (reduction of drag, noise, and structural loading); and gaining experience in high performance computing, and writing parallel PIV software for experimental testing.
At SB, Andrew has been active in the University Scholars Program, and was designated as a Freshman Seminar class representative. He also has served on the executive board for the Cardozo College Hall Council, as well as SB's Speech and Debate Society. In spring 2017, Andrew participated in the Google BOLD Immersion Summit; he also gave an oral presentation titled "Current Efforts Toward Separation of Water and Oil in Capillary Diodes"  based on his work in the Colosqui group for SURC 2017, an undergraduate research conference held at Suffolk County Community College. In summer 2017, Andrew gained experience as an Electrical Design intern at the Harris Corporation in North Amityville, NY.
Andrew is a graduate of Newfield High School in Selden, NY. His hobbies include weight-lifting and listening to podcasts. Below are excerpts from his interview with Karen Kernan, URECA Director.
Back to Top
---
URECA RESEARCHER OF THE MONTH - APRIL 2014 - PLINIO GUZMÁN, Mechanical Engineering, Class of '15
Plinio Guzmán, a Mechanical Engineering major enrolled in the 5-year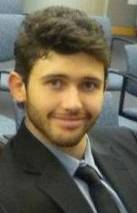 B.E./M.S. program, has just begun his senior year, joining his classmates in MEC 440 on a collaborative senior design project under the direction of Dr. Anurag Purwar. Since fall of 2012, Plinio has also been hard at work in the laboratory of Dr. Maen Alkhader of Mechanical Engineering while engaged in independent research on the fabrication and testing of materials, and experimental apparatus design (e.g. Split Hopkinson pressure bar for dynamic testing of materials). 
Plinio was one of ~35 undergraduates selected last spring from a competitive applicant pool for the 2013 URECA Summer award: the URECA funding helped to support his work on the "Dynamic Response of Auxetic Foams,"  in particular optimizing auxetic solid foam materials with enhanced impact energy absorption capacity. Plinio will be presenting this ongoing project at URECA's annual campus wide poster symposium next April. Together with his mentor, Prof. Alkhader, Plinio also plans to submit an abstract and present his work in the 1st International Conference on Mechanics of Composites ( MECHCOMP2014), an international mechanical engineering conference which will be held in Stony Brook in summer 2014.
Born and raised in Mexico, and a graduate of Tecnológico de Monterrey high school, Plinio currently serves as treasurer of the American Society of Heating, Refrigerating and Air-Conditioning Engineers (ASHRAE), and an executive e-board member for the campus Society of Hispanic Professional Engineers (SHPE). Plinio has also been involved on campus as a member of Stony Brook Motorsports (Fall 2010) and as an Undergraduate College Fellow (Fall 2011-GLS); and has worked as a lab assistant in the Department of Physics (2012-2013) setting up experiments for instructional use and repairing lab equipment. His hobbies include cycling, skateboarding, reading and travel. Plinio's long-term goal is to pursue a Ph.D. in mechanical engineering.
Back to Top
---
URECA RESEARCHER OF THE MONTH - MAY 2012 - RICHARD ANGER, Mechanical Engineering, Class of '13
Richard Anger will be staying at Stony Brook a 5th year to complete a Master's degree. He came to SB as a transfer student in fall 2009, and will be graduating with a B.E. in Mechanical Engineering, and a minor in Nanotechnology studies. Since Spring 2009, Richard has worked in the Nanotribology and Wear Mechanics Laboratory with Prof. Chad Korach of the Mechanical Engineering Dept. A recent project in the Korach group, presented recently at the URECA poster event, "Materials characterization for displacement of heating oil usage in legacy fuel pumps" was also singled out in the Mechanical Engineering graduate student poster symposium for "best poster". Richard also won first place design award for a liquid metering device in December 2010. He has participated in summer research programs, including the National Nanotechnology Infrastructure Network (NNIN) REU program at Cornell University (Summer 2010) where he studied, designed, and fabricated advanced carbon electrodes for use in vanadium redox microfluidic fuel cells; as well as the NJCEP REU program at the New Jersey Institute of Technology (Summer 2009) where he researched Nanocomposites containing functionalized carbon nanotubes de-agglomerated by RESS. Recently Richard received a grant supporting his use of the Center for Functional Nanomaterials facility at Brookhaven National Laboratory, for his master's thesis project at Stony Brook in 2012-2013 in the Korach Laboratory. [To see a video of Richard's NNIN REU presentation at the University of Minnesota REU Convocation, click here >>>. ] 
Back to Top
---
URECA RESEARCHERS OF THE MONTH - JANUARY 2012 - LORENA ROZO AND JAMES MEEHAN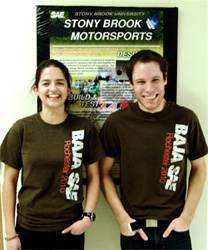 The innovative CEAS Senior Design projects always draw a crowd at URECA's campus-wide research Celebration. Past exhibits have included optical pacemaker devices, curb climbing wheelchairs, interactive computer games, robots, and even a solar boat. But a perennial favorite—always front and center on the platform—is the latest Baja SAE off-road vehicle on display from the Stony Brook Motorsports Team. Last year's vehicle (#34), weighing in at ~420 pounds, not only got our attention, but earned kudos at the SAE Collegiate Design Series competition it entered in Illinois last June where it placed tenth overall, and fifth in design. (*Yes it did play in Peoria!)
Success at SAE competitions doesn't just happen, but is the result of many, many hours of hard work, including creative design, manufacturing, testing and troubleshooting. And two of the hardest-working students who provide much of the drive behind the SB Motorsports operations are: Lorena Rozo, Team President, and James Meehan, Design Manager, our Researchers of the month.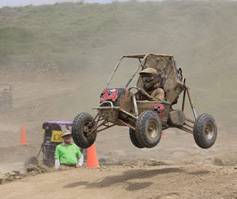 Both are currently working on their senior design capstone project, focusing on the powertrain design with continuously variable transmission (CVT) and braking systems (James) and/or suspension components (Lorena). The Stony Brook Motorsports Team works closely with its advisors, including faculty advisor Dr. Noah Machtay; Bob Martin, and Henry Honigman of Mechanical Engineering; and CEAS Senior Design professor for Mechanical Engineering, Dr. Yu Zhou. In talking about the Motorsports "family", James and Lorena enthusiastically acknowledge all the members on the Team, as well as their top-notch advisors—and express their deepest thanks to the loyal Motorsports sponsors who keep the wheels turning. Everyone involved is excited to show the newest Motorsports car that will be completed and be on display at URECA on April 25, 2012 – and will go on to two national SAE competitions, in Oregon (May) and Wisconsin (June). Lorena Rozo comments, "We've made a lot of improvements. This year, we really have a chance to win!"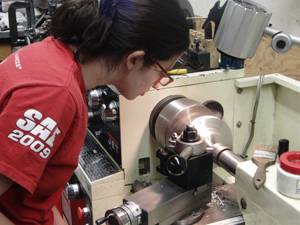 Lorena Rozo was born in Bogotá, D.C., Colombia and attended the Gulf Coast High School in Naples, Florida. She first got involved with Motorsports in her freshman year (fall 2008) where she took the initiative to learn welding. Lorena is one of 27 women currently majoring in Mechanical Engineering at SB (out of 297 total), and is a great advocate of the major, the department, and CEAS, representing Motorsports and Mechanical Engineering as a CEAS student ambassador at many recruiting events, and on admissions blogs. She has had multiple leadership roles with Motorsports, including being Team Treasurer (2009-2010), Chassis Design and Fabrication Leader (2009-2011), Team Vice-President (2010-2011), Suspension Design Leader, and Team President (Summer 2011-present). Lorena plans to continue here at SB to earn her master's degree [2013] before seeking full time employment as a design or manufacturing engineer. For the past year, she also has interned at a local Setauket company, Flagpoles, Inc., that specializes in mass production of aluminum tubular standards and defense products. Lorena's hobbies include running and hiking, and driving the Baja cars.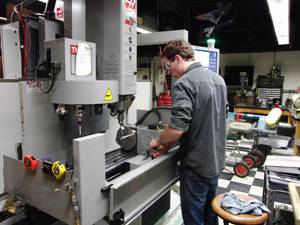 James Meehan was born and raised in Long Island, and attended West Babylon High School. He is a first generation college student: after working for half a year as a machinist, he attended SUNY Farmingdale, and then transferred to SBU. James currently trains new Motorsports members in design and fabrication processes, because of his proven expertise in precision machining critical vehicle components using CNC milling machines, plasma cutter, and manual lathe. He credits much of what he knows to his father, also a machinist, and to "hands-on" experience as a child, in taking things apart and being around small motors. James enjoys mountain biking, and is an avid Baja driver. He has also interned as a manufacturing assistant first at an aerospace manufacturer (2006-2010) and now at a medical devices manufacturer. Still undecided as to future plans, James has earned a 3.97 GPA at Stony Brook and is a member of SB's Tau Beta Pi Engineering Honor Society and Golden Key International Honor Society.
Back to Top
---
URECA RESEARCHER OF THE MONTH - MAY 2009 - POLLY LO, Mechanical Engineering, Class of '09
May 2009 featured student is Polly Lo, a mechanical engineering major, class of 09, who has worked for over two years under the mentorship of Prof. Chad Korach of the Department of Mechanical Engineering. Last summer, Polly Lo had the opportunity to travel to Kanpur, India to work for 10 weeks at the Indian Institute of Technology as part of an International Research and Education in Engineering (IREE) award from the NSF to Prof. Korach. Following graduation, Polly Lo will be taking up a management trainee position at Con Edison and remain in the NYC area. Polly Lo has presented two research posters for the last two years at the URECA Celebration of Undergraduate Research and Creativity. This year's posters included: "The effects of environmental degradation on the mechanical strength of carbon fiber reinforced composites", as well as a team senior design project mentored by Prof. Yu Zhou, titled "Steerable Pedalo." Last year, Polly Lo also gave a talk at the Nanotechnology Studies symposium held concurrently with the URECA Celebration of undergraduate research, on "Mechanical and Erosive Damage in Dental Enamel Microstructure." Polly Lo is a member of Tau Sigma Mechanical Engineering Honor Society, and serves as treasurer for her Chinese Christian fellowship.
Polly Lo had positive comments to make about the Department of Mechanical Engineering:
"I love the department. It's not a very big department. In the senior year, all the faculty members recognize you by your name and by your face. I feel very good about this department. Walking down the hallway, you see professors, say hi . . we have conversations, small talk. So I love this department!"
Back to Top